Windows 8 Consumer Preview was recently released by Microsoft, and is available free from their website for everyone. After installing and playing with it for a while, I have found the experience pleasing and satisfying enough to crave for the final version. Here is a list of 5 things I liked best about the preview.
Rectangular Windows
Yes! You read it right. For me, that is the best thing in Windows 8 interface. I have always had to download and install unsigned theme patches just to get rectangular corners on the windows, since the rounded ones used in Windows Vista and 7 never appealed to me. Thankfully, guys at Microsoft have done a fantastic job in making the default theme for Windows 8 to to make the Windows experience smooth.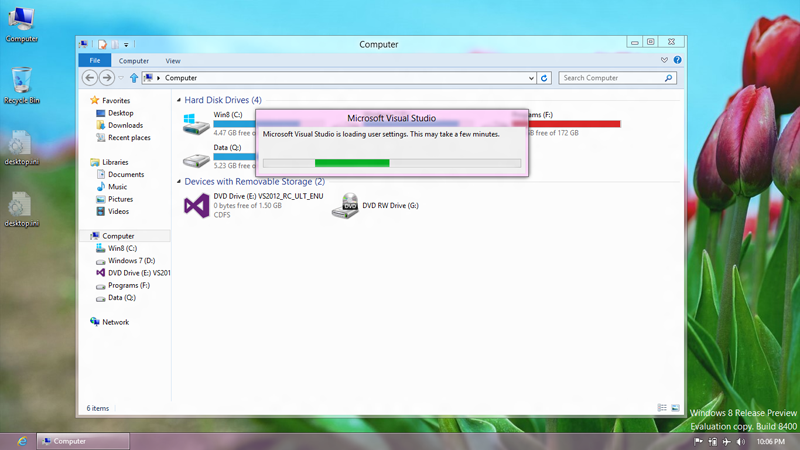 Multi Monitor Taskbar
Those who own and use more than one display device for Windows, will be ultra pleased with the new taskbar changes in Windows 8. Unlike the lone taskbar sitting on first desktop, Windows 8 taskbar can now be made to not only span multiple monitors, but you can also choose to display the application icons on either your main display, or shown individually on the taskbar on the display on the monitor where the application is active. This really helps keep the taskbar clean on each monitor, not to mention easily identifying which button to click if you run many apps at the same time on your desktop.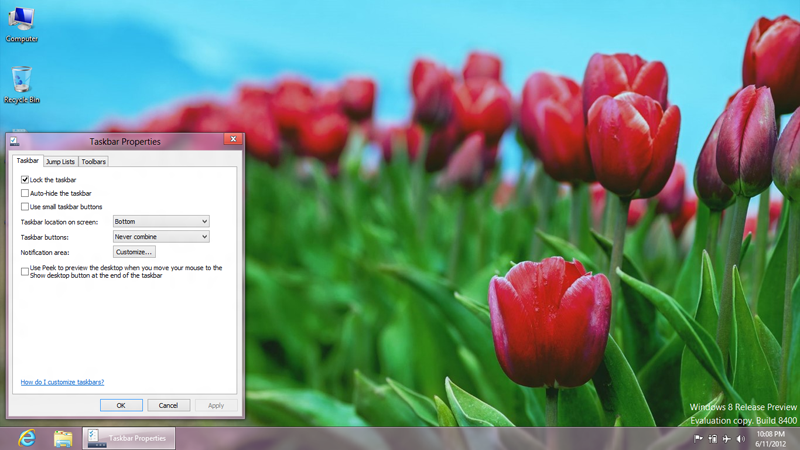 Hibernated Shutdown
A feature that I really liked in MAC OSX was that apps that were running at the time of system shutdown, would resume from the same state after a reboot. Windows 8 preview employs a similar technique and resumes applications (or tries to?) in the same state that they were at the time of shutting down Windows. It remains to be seen whether the feature requires additional work for developers, or will Windows 8 be able to pull out this great feature all by itself on all applications when the final version comes out.
Poor Man's Task Manager
The Task Manager in Windows 8, inspired by Process Explorer, finally gets a makeover to be actually useful for everyday use. Color coded display eases out the display of task list, and grouping makes system processes, application, services etc. appear separately to be clearly identified and managed.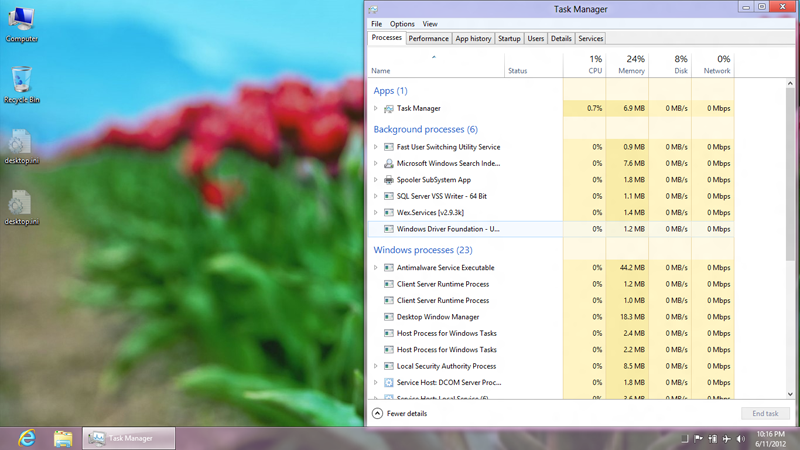 Visual Studio 2012
Couldn't say more about this, but Microsoft Visual Studio is probably the tool of the decade (if there was such a thing out there). Visual Studio 2012 (currently in RC state for Windows 8), allows developing Windows 8 applications, including tons of samples to give you a quick start. This is one tool that you will never get bored of playing with, and it seems the fun is going to be doubled with VS 2012 and Windows 8 when they come out. Also available for download free from the Windows 8 developer center on Microsoft website.